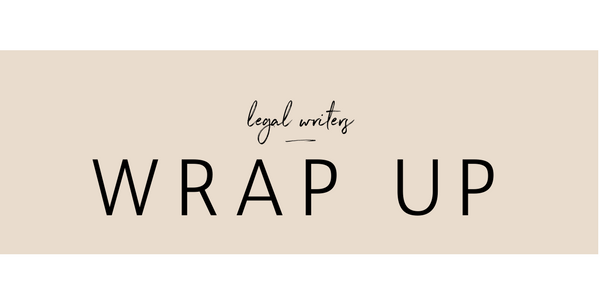 This month in the law – July 2018
Here at Legal Writers, we've wrapped up warmly to bring you this month's Wrap Up. Parliament has been on winter break since 29 June, so there's no new legislation to report for July, but the courts are always busy! We've brought you the best tidbits of legal news for all your content creation needs.
If your clients would like to know more, get in touch and we'll be happy to help get the word out.
Property
In Victoria, any new dwelling planned for the Neighbourhood Residential Zone or General Residential Zone must also include a minimum garden area. The required area depends on the land size and is stipulated by the Building Amendment (Garden Area and Siting Requirements) Regulations 2018.
Relevant to: property developers
Corporate
Industry funding is now in place. Small businesses will receive a $4 increase in their annual review fee.
Larger operators should have received login details to ASIC's new regulatory portal in July. They may also be asked to provide information about their business which will then be used by ASIC to determine what their annual levy will be. These businesses will not receive an invoice for their new fee until January 2019.
Relevant to: any company in Australia
Employment
The Modern Slavery Bill 2018 was introduced to Parliament before the winter break and is expected to pass shortly after resumption. Its aim is to identify modern slavery risks in supply and operation chains, and will impose a reporting requirement for large businesses to detail their actions in addressing those risks.
Relevant to: businesses with revenue over $100 million per financial year
Privacy and Data Protection
My Health Record has been in the news recently, with last minute amendments coming into play after a high percentage of Australians opted out. While we don't yet know if it will become opt-out instead of opt-in, healthcare providers should be aware of their responsibilities under the My Health Records Act 2012, which offers a parallel regulatory scheme on top of existing privacy law.
Relevant to: healthcare providers and anyone else with access to My Health Record data
Immigration
The pilot program for the Global Talent Scheme commenced on 1 July. Businesses can now sponsor highly skilled and specialised workers who will help to grow their businesses and create more jobs.
Relevant to: any business looking to leverage skilled workers from overseas
Rakhee graduated from the University of Melbourne with Honours and began her career practising taxation law. While working for blue chip companies like ANZ, Foster's and General Motors she developed a flair for writing. She's been featured in The Australian, Forbes and BBC publications, and enjoys creating content that leverages her knowledge of the law and business. Her expertise includes taxation, migration, financial services, corporate and employment law.
Rakhee is based in Melbourne. You can contact her by email at rakhee@legalwriters.com.au or call her on +61 409 418 297.