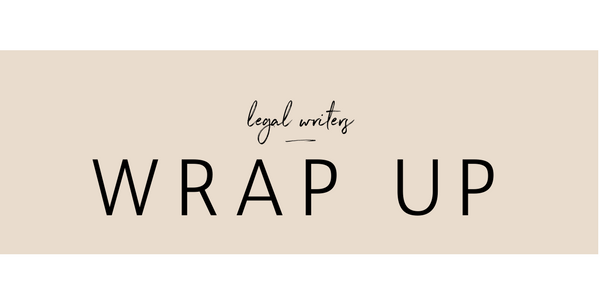 We're almost halfway through the year, and we know a lot of our clients are gearing up for the end of financial year crunch. There's a lot happening out there across the practice areas, though – we've rounded the biggest news up for your convenience in the Legal Writers Wrap Up.
If your clients would like to know more, get in touch and we'll be happy to help get the word out.
Family Law
There's a huge shakeup in the family law courts, with the Government's announcement that the Family Court of Australia and Federal Circuit of Australia will be amalgamated from 1 January 2019. A new Family Law Appeals Division will also be added to the Federal Court of Australia. It's hoped that the changes will make family law matters faster and cheaper for the affected parties.
Relevant to: Parties intending to institute family law actions.
Employment
The Fair Work Commission announced a 3.5% raise to the national minimum wage on 1 June 2018. This means that the national minimum wage will be $719.20 per week or $18.93 per hour. Minimum award wages will also be raised by 3.5%.
Relevant to: All employers and any potentially affected employees.
Taxation
The Federal Government announced its budget this month. Some of the highlights from a taxation perspective include:
Some immediate tax relief for low and middle-income earners
The $20,000 instant asset write-off has been extended to 30 June 2019
A range of integrity measures that may impact the taxation of online businesses, significant global entities, and consolidated groups.
Partners assigning their interests will not be able to benefit from the small business CGT exemption anymore
Adding GST into the Director Penalty Regime to combat illegal phoenixing
Removing tax deductions where a business has not withheld PAYG
Relevant for: Most individuals, small and large businesses.
Financial Services
The Australian Financial Complaints Authority (AFCA) was authorised on 1 May. From 1 November 2018, it will be the only external dispute resolution body for financial firms, replacing the Financial Ombudsman Service, the Credit, and Investments Ombudsman and the Superannuation Complaints Tribunal. Leading up to its commencement all financial service organisations should prepare to join AFCA by 21 September 2018.
Relevant for: All financial service organisations
APRA will start offering a restricted licence soon. The restricted ADI licence will allow new businesses to carry on some banking services for up to two years while they build their capabilities and resources. In the interim period, APRA has indicated that it's open to potential licensees speaking to them to obtain guidance on the new licensing process.
Relevant for: Any new business or startup that may need to hold and ADI licence.
Competition and Consumer Law
The Australian Competition and Consumer Commission (ACCC) has been given the task of establishing a Consumer Data Right. This will empower consumers who want to access and share data held by businesses so that they can compare similar services with competitors. It is anticipated that this will begin from July 2019, with the ACCC indicating financial services will be their initial target industry.
Relevant to: Businesses in most industries, although this will be phased in with financial services first.
Rakhee graduated from the University of Melbourne with Honours and began her career practising taxation law. While working for blue chip companies like ANZ, Foster's and General Motors she developed a flair for writing. She's been featured in The Australian, Forbes and BBC publications, and enjoys creating content that leverages her knowledge of the law and business. Her expertise includes taxation, migration, financial services, corporate and employment law.
Rakhee is based in Melbourne. You can contact her by email at rakhee@legalwriters.com.au or call her on +61 409 418 297.